A bug's eye view of volunteering
, by Cumbernauld LL
We were marching through the woods. The sun bursting through the trees, the cold air sucked into our lungs. My volunteers had entered a new area of Cumbernauld Glen; unveiled before their eyes. In this space they saw what first appeared to be a void; the last vestiges of winter still clinging onto the forest. I prompted them to take a closer look.
Spring had already sprung! Snowdrops erupting through the soil with crocuses not far behind, painting a dash of colour across the woodland floor. We investigated the glare of the light and saw a goldfinch dart across. We cupped our ears upward to hear a cacophony of bullfinches, coal tits and robins singing their song. As our eyes slalomed down the trunk of the imperious Scots pine, we saw its delicate tangerine hues embellished by the light.
My feet crunched the beech seed casings below my feet.  My volunteers were startled as their feet also crunched these fuzzy little casings. I told them the story of one of our previous Project Officers, who liked munching away on these seeds after cooking them up like popcorn.
I picked up one of the casings to show them, and what did I see… a little bug was hiding inside! On closer inspection this thing was not little, it was gigantic, its emerald green wing casings glimmering in the sunshine. The volunteers drew in to have a look.
One antenna lazily popped up, then another. Suddenly, the shield bug's eyes were open and taking us all in, wanting to know more. He went for a big stretch, but he was still too tired to bother with us. "Spring's not here yet!", we thought we heard him say.  All this excitement before we'd even begun our volunteering session for the day.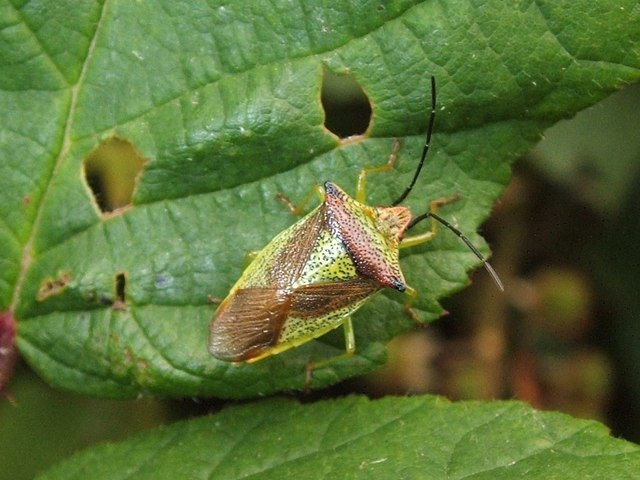 ---
Cumbernauld LL