An outer space landscape in Cumbernauld!
, by Cumbernauld LL
Before embarking on this project, my knowledge of Cumbernauld was limited to… a new town, Gregory's Girl, an architecturally celebrated centre, a bit like Milton Keynes.
Born in Milton myself and now based in Glasgow, I have maintained a fondness for new towns and their personas as concrete suburbias. Surprising to most, Milton Keynes is surrounded by lush countryside and I was in no doubt that I would find a similar landscape in Cumbernauld. I was looking forward to discovering the green gems of the town with the help of those that know them best.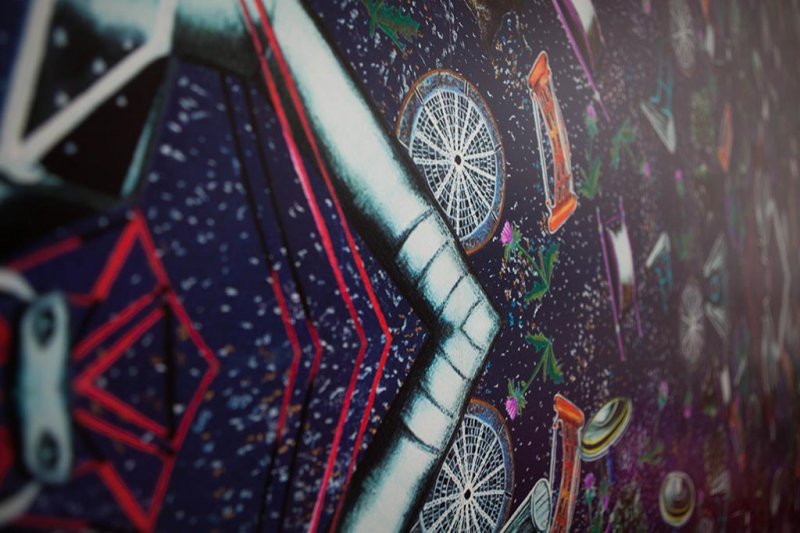 I met Barney Kinsler and a few of the Friends of Cumbernauld Community Park, already mesmerised by the impressive play area. Barney handed me an envelope full to the brim with stories and pictures thanking the Friends of Cumbernauld Community Park for their new play equipment.
It was clear from the outset that this park was loved and it was inspiring to learn this first hand. Our tour of the park highlighted the diversity of its attractions, from expansive cycle routes to woodland and the much-loved Arria at the park's furthest point.
I chose to turn my attention to the area of the park that first grabbed my attention – the play area. I imagined creating an outer space landscape, with the play park's sci-fi looking equipment floating through space.
It was important for me that those that used this component of the park – children – could have fun in my two-dimensional interpretation as they imagined playing in new play parks in outer space.
Place and environment often provide the impetus for my work: a disused nuclear testing ground, a shopping centre, an imaginary island. These are my playgrounds where I roam, creating new encounters and new narratives through a process of re-examining and re-imagining.
Last year, I presented ile de Sable at WASPS Factory Glasgow, a tale of a recently un-discovered island in the Eastern Coral Sea. In November this year, meanwhile, I am presenting Souvenir Point – a project to celebrate the UK's first Multiplex Cinema. You can find out more about my work by visiting my website.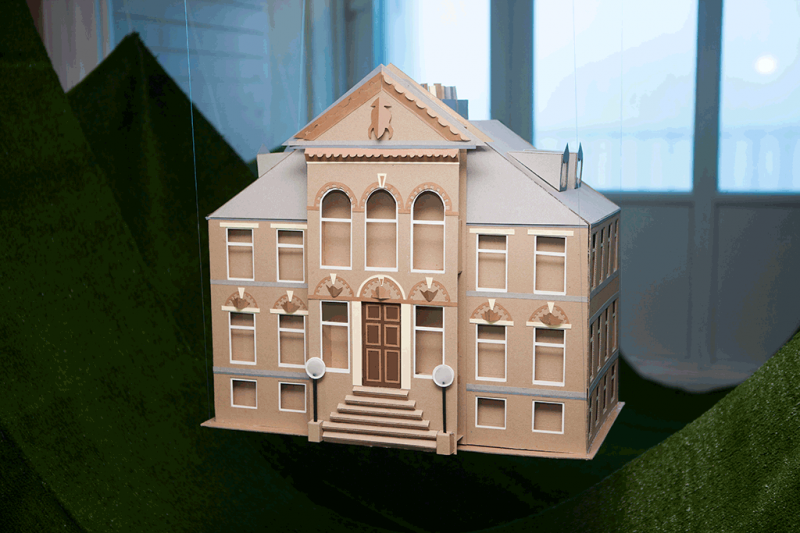 For my second window, I looked at Cumbernauld House Park, an impressively grand house that sits amongst an expansive park which was once home to Cumbernauld Castle.
Meeting with Adam Smith from the Friends of Cumbernauld House Park, I was able to learn more about the rich history of the site, including the failed plans for the building to become a museum of the photographic work of past resident Lady Clementina Elphinstone-Fleming, and recent plans for an archeological investigation of the site.
I wanted to subtlety point towards the proposed archeological scan of the site by suspending the grounds and the house in mid-air. A simple representation of the two main components of the site, I hoped that the park's essence would be captured in my display.
As I reflect on my experiences of the project, I am grateful for the opportunity to be taken out of the city, talking to those that are working to strengthen and maintain our understanding and uses of the green gems of Cumbernauld. I hope my presentations will contribute to this understanding, too.
Originally from Milton Keynes, artist Emily Shepherd now lives and works in Glasgow. Place and environment provide the impetus for much of Emily's work, inspired by research into the recent history, social context or role of a place. For more information,
visit her website
.
---
Cumbernauld LL