Crafty by Nature
, by Tracy Lambert
I have always been interested in arts and crafts, and have dabbled in many, sometimes costly mediums to find one that would stick. As the saying goes Jack of all trades – master of none.
It was during the height of the Australian bush fires when a post on Facebook caught my eye. Wildlife organisations were calling out for knitted, crocheted and sewn items for wildlife injured by the fires. I quickly bought some yarn, my second ever crochet hook (first one was given away as I couldn't get to grips with it), and followed a YouTube video on how to make a nest.
I'm now hooked and churning out flowers and toys for my dogs, but what has all this got to do with my job? Well I jokingly made a reference to creating a crocheted wildflower meadow and our Project Manager said go for it. And now you can join in!
We're going to work with groups and individuals to create crocheted wildflowers native to Scotland as a tool to connect people to nature. This will run parallel to the meadow ("Nectar Networks") management we'll be doing this year as part of our Habitats and Access work. The first Crafty by Nature session will be on 24 February 12-2pm in the Cornerstone Hub, Antonine Centre.
We have lost 97% of our wildflower meadows since the end of World War II, this has had a devastating effect on our wildlife with a decline of 75% in flying insects. These insects feed our birds which feed predators— all one interlinked food web.
What better way to build appreciation of our wonderful wildflower species and the insects that feed on them, while having a bit of a blether too! Keep an eye on our website for more information.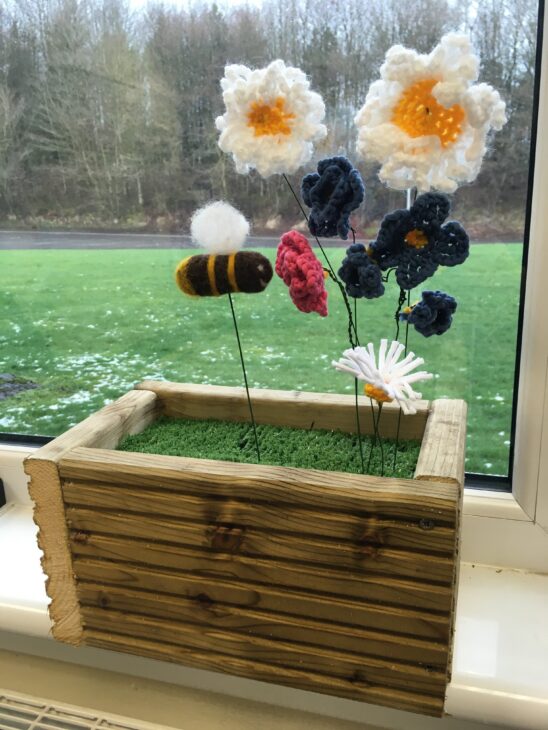 ---
Tracy Lambert