Green Health and Wellbeing
, by Cumbernauld LL
What happens when traditional health practitioners and green health practitioners meet? They get together around a fire and experience a great cup of tea in the outdoors!
Last month, Cumbernauld Living Landscape along with eight other organisations were invited to present their projects at the Lanarkshire Green Health Volunteering event in the stunningly beautiful Chatelherault Country Park. The aim was to showcase practical outdoors activities in order to demonstrate the potential health benefits for volunteers.
The Lanarkshire Green Health Partnership was formed in April 2018. It is helping to connect health and social care with nature. The partners include both North Lanarkshire Council and South Lanarkshire Council as well as a number of leisure and voluntary sector organisations.
The event was well attended. Around 200 people, mainly NHS staff, were bouncing from one group to the next with great enthusiasm! We were delighted to present them with a taste of our very successful Wild Ways Well sessions. We had folk mindfully tasting various teas, lighting fires, baking bread sticks, decorating the trees with forest guardians, learning about and tasting locally foraged medicinal plants.
This event provided an amazing opportunity for health and social workers to meet outdoors practitioners and discuss potentials, try something new and test the green positive effect for themselves!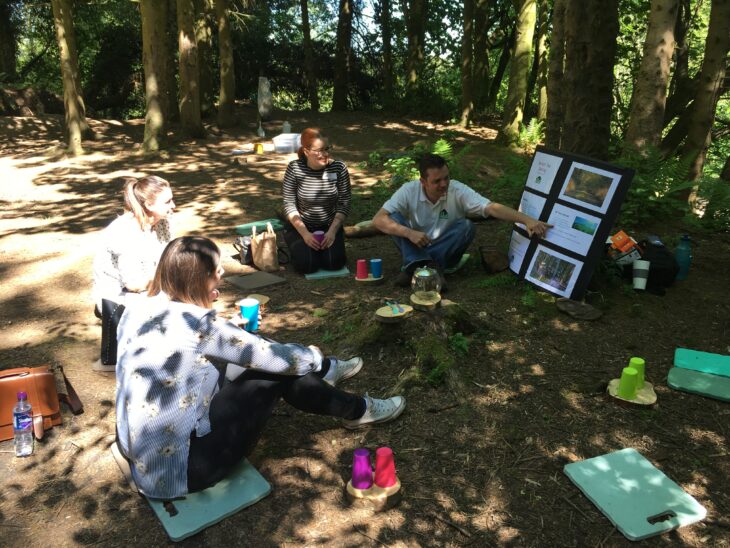 The professionals taking part in the day were really impressed with our Wild Ways Well project and its success stories. Although this programme is only based in Cumbernauld, we are confident it will provide a blueprint for similar initiatives in other communities.
It is great to know that they are other many organisations in Lanarkshire that provide opportunities for people who want to get more in the outdoors, but do not know where to start or feel they can't do it by themselves.
You can find more information on how to join our Wild Ways Well group on our website and Facebook page.
Claire Bailly, Senior Project Officer
---
Cumbernauld LL