If you go down to the meadows today
, by Cumbernauld Living Landscape
The Cumbernauld Living Landscape team are gradually getting back out to visit some greenspaces in Cumbernauld. Tracy, our Project Officer for Young People visited St Maurice's Pond recently and was amazed at how much the meadow was thriving!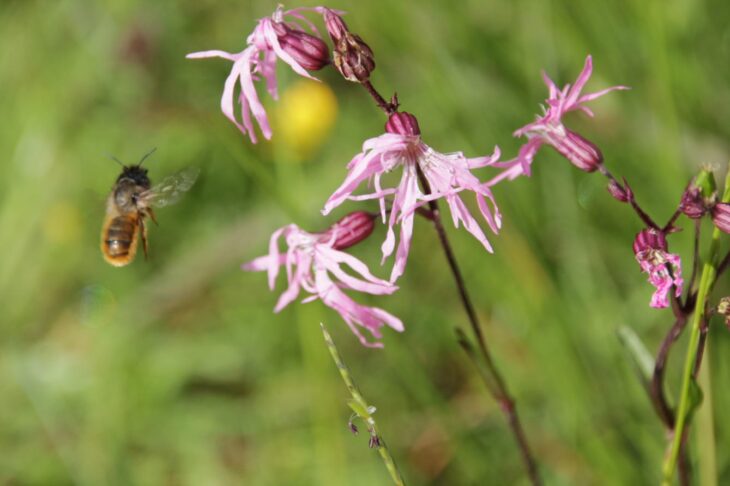 There's such a diverse range of plant species to be found including knapweed, yellow rattle and birds foot trefoil. Benefiting from these wildflowers are the many bumblebees, moths and grasshoppers that she came across. The buzzards flying over had the best view of all, but there's nothing like immersing yourself in a meadow and discovering species that you didn't know where there.
This meadow is only flourishing thanks to the hard work and dedication of our local Nature Ninja volunteers. Last autumn they worked to cut back the grass, and this has allowed the plants to come through – this a very physical task which involved scything a large area of the meadow and removing the cut grass so that the soil didn't become too fertile. The volunteers also received training on using brush cutters and received a licence for using the equipment.Their hard work has paid off. If you go and visit the site this summer, you'll see the fruits of their labour.
The volunteers also worked on a meadow at Cumbernauld Glen beside Abronhill – there you'll find ragged robin, oxeye daisies along with other species. I'm so proud of the passion and devotion our volunteers have to enhancing local greenspaces and I love this time of year when you can really see their commitment paying off!
By having a series of meadows linked up across the town we're creating a 'nectar network' for pollinators to travel through and call home. There are a range of resources on our website to help you identify different species – I wonder how many you'll recognise?
---
Cumbernauld Living Landscape