Living Landscapes for a living planet
, by Guest Blogger
by Cathleen Thomas, Scottish Wildlife Trust Living Landscapes Programme Manager
In the UN's Decade on Ecosystem Restoration (2021-2030), starting with the UN Biodiversity Conference (COP15) and UN Climate Change Conference (COP26) in October 2021, the world's focus is on preventing, halting and reversing the degradation of ecosystems – the natural networks that keep our planet working.
The Scottish Wildlife Trust's Living Landscapes programme, of which Cumbernauld Living Landscape is part, is a recovery plan for nature. By thinking about how we manage land in a multifunctional way, we can achieve recovery by doing more for wildlife, habitats, people and the economy. It is based on the UN's Ecosystem Approach, which seeks to achieve sustainable development, because ecosystem health is not only essential for the environment, but also for the existence and development of human society.
We aim to balance the three pillars of sustainability (environmental, social and economic objectives) at a landscape scale. In a truly Living Landscape, ecosystem health is restored and human society benefits from the vital services that ecosystems provide.
At the Scottish Wildlife Trust, we currently lead three Living Landscapes that are each made up of a group of organisations working towards the common aim of creating sustainable environments, and restoring restoring ecosystems, which will result in thriving people and wildlife.
Edinburgh Living Landscape aims to integrate nature into neighbourhoods across the city, demonstrating that investment in the natural environment makes economic sense as well as increasing biodiversity and creating healthier places. Together we aim to make the city one of the most sustainable in Europe by 2050. The programme is being delivered by a partnership of organisations including Scottish Wildlife Trust, City of Edinburgh Council, Royal Botanic Gardens Edinburgh, University of Edinburgh, Edinburgh and Lothians Green Space Trust, Butterfly Conservation Scotland, RSPB and NatureScot.
With a population of around 500,000 people in our capital city, the Living Landscape partners are working alongside communities to create square meters for butterflies and plant a million trees. We worked on creating a new park at Little France and are now developing a city-wide Nature Network to benefit people and wildlife in the city.
Cumbernauld Living Landscape is putting nature and people at the heart of Cumbernauld's future by enhancing and expanding existing natural areas within the town. When the new town was developed it included a network of natural spaces, including parks, pathways and nature reserves, comprising over half of the land area of the town. Cumbernauld is the largest town in North Lanarkshire, with around 55,000 people living there, and the Living Landscape partners are working alongside the community to achieve transformational change.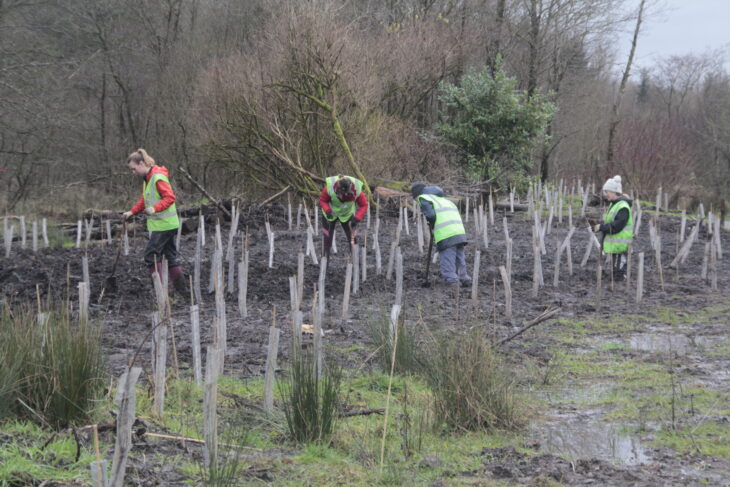 The programme is being delivered by a partnership of organisations including Scottish Wildlife Trust, North Lanarkshire Council, Sanctuary Scotland, TCV and James Hutton Institute, supported by the National Heritage Lottery Fund. We are planting trees, creating meadows, removing species that are doing harm to the environment and joining up large natural areas with good quality paths to improve access for everyone. This helps us to support our urban wildlife, and provides safe and pleasant walking and cycling routes across the town, allowing people to reconnect with their natural environment, providing mental and physical health benefits. It also helps our regional economy to supply fresh water, clean air, food and medicines.
In Cumbernauld, we aim to deliver our activities in a sustainable way, for example we are using scythes to cut our meadows rather than using loud strimmers that are powered by fossil fuels, and we've ensured our travel is sustainable by using two electric vehicles, which we bought in 2019 to transport the tools and equipment we need to do our jobs.
Coigach and Assynt Living Landscape is restoring the ecosystem in the north west of Scotland, in an area with a population of around 1,500 people. The programme is delivered by a partnership of organisations including Scottish Wildlife Trust, Assynt Field Club, Assynt Foundation, Coigach Community Development Company, Coigach Salmon Fisheries Ltd., Culag Community Woodland Trust, Eisg Brachaidh, Historic Assynt, Isle Martin Trust, John Muir Trust, Kylesku Estate and North West Highland Geopark.
Our vision is that by 2050, the communities of Coigach and Assynt are working together to achieve a truly Living Landscape through improved understanding of their environment and the impacts of climate change; shared active management providing a diverse range of connected and resilient habitats; creation of local employment and training opportunities, and building on the communities' strong cultural heritage linked to the land.
The partnership is bringing environmental, social and economic benefits to Coigach and Assynt, including providing support and practical assistance to crofters, repairing historic paths in the area such as Fox Point path and the Postie's path, installing interpretation to showcase the area's historic and natural heritage to visitors, capturing stories, music and song from the area, creating a website to allow people to record species they see in the area, and supporting the community to plant more trees and connect up areas of woodland.
To achieve our Living Landscapes across Scotland, and protect both the climate and biodiversity we must ensure that we're all taking action to make our lifestyles more sustainable. Everyone can do something, including reducing the amount of meat we eat, reducing long distance travel and travel sustainably over land rather than flying, planting a wildlife friendly garden, recycling and reusing items, as well as reducing the amount we consume, whether that is fast fashion or electrical items.
These conferences focus a lot on future activities and targets, but 2030 is still a number of years away and it is imperative that we make changes now. We saw in lockdown that within days of people being restricted in going outside, nature quickly reclaimed spaces they had been excluded from as our impact on the planet was drastically reduced overnight. There were herds of deer seen wandering along deserted high streets, our meadow flowers started to regrow because we weren't out cutting the grass as much, bird song seemed louder than it had ever been because they were no longer shouting over traffic noise, clear skies and seas due to the lack of air and sea traffic, and clear air due to the reduction in fossil-fuel powered travel. All of this showed me that we don't need to wait until 2030, or 2050 or even 2070 – we can take action now to improve the spaces around us. We need to stop thinking of our native plants as weeds and our native animals as pests and learn to live alongside nature. All of our lives depend on it!
---
Guest Blogger