National Lottery boost for Natural Connections project
, by Cumbernauld LL
The Cumbernauld Living Landscape has launched the Natural Connections project, which will work with local schools and communities to improve three important wildlife sites in Cumbernauld. St Maurice's Pond, Ravenswood Local Nature Reserve and Cumbernauld Glen Wildlife Reserve all neighbour Cumbernauld's high schools.
Over the next two years over 70 young people will work to improve the areas for people and wildlife. It will give the young people the opportunity and skills to improve their environment, their confidence and their employability skills. The project will also promote and celebrate the town's greenspaces. Local people and groups will also have the chance to get involved in the project on monthly volunteering sessions.
Although known for its grey urban landscape, an amazing 50% of Cumbernauld is greenspace, making it one of the greenest towns in Scotland. As well as providing a focus and haven for wildlife, these greenspaces are great places for people to enjoy. Many in Cumbernauld, particularly young people, are unaware of the outstanding and diverse natural heritage of their town. This means that local people are not spending time in nature and are not reaping the multiple benefits such as health, wellbeing and relaxation.
Minister for Sport, Health Improvement and Mental Health and MSP for Cumbernauld and Kilsyth, Jamie Hepburn MSP "These great sites are vital for the health and happiness of our communities. The Natural Connections project hopes to bridge the growing disconnection between people and nature in my hometown of Cumbernauld."
Project Manager for the Cumbernauld Living Landscape, Ian Mackenzie, said: "The Cumbernauld Living Landscape would like to thank Heritage Lottery Fund for making this ambitious project possible. This project utilises both the Scottish Wildlife Trust and North Lanarkshire Council sites and could only be achieved by the generous support of the Heritage Lottery Fund.
"Other local organisations have contributed to the project and this would not be possible without the support from North Lanarkshire Council, NHS Lanarkshire and the Scottish Wildlife Trust. All of these organisations recognise the impact the project can have for the communities that surround the sites and the young people involved. "
Head of HLF Scotland, Lucy Casot, said: "Our natural heritage is a most precious resource and, thanks to National Lottery players, HLF grants have helped to protect an amazing range of landscapes, habitats, and species of plants and animals. HLF is delighted to support the 'Engaging Communities to Enhance Urban Greenspaces in Cumbernauld' project which will stimulate people's interest in the natural world and so help them conserve it for future generations."
Head Teacher at St Maurice's High School, Patricia Alexander, said: "We are delighted to have created a partnership with the Cumbernauld Living Landscape. This project brings multiple benefits for our young people by connecting them with nature, building employability skills and increasing pride in their town. The project also creates links with other local schools and the local community which we hope will continue in the future."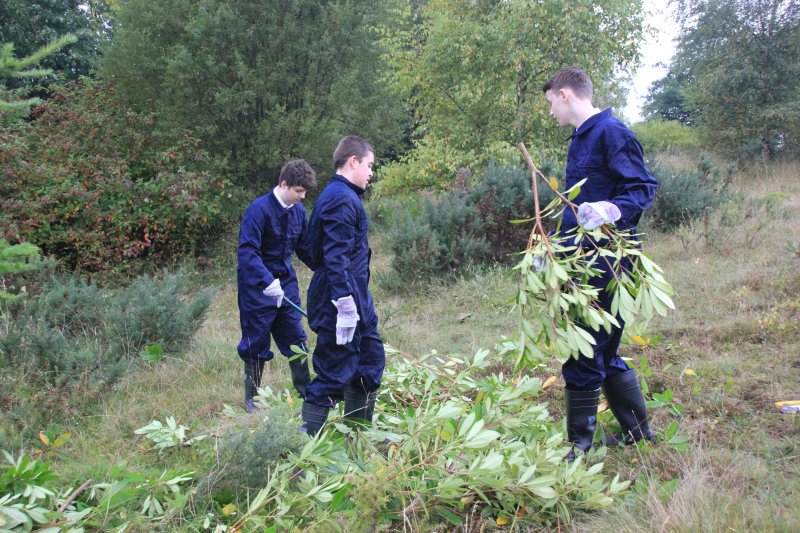 To get involved and pitch in, contact Tracy Lambert on tlambert@scottishwildlifetrust.org.uk
---
Cumbernauld LL