Natural Connections – Woodcarving be of interest to you?
, by Cumbernauld LL
Just before the Easter break students from Greenfaulds and St Maurice's high schools were out learning a bit about woodcraft from the North Lanarkshire Council (NLC) Countryside Rangers. Each student carved a tent peg fashioned out of green ash and hazel rods under the expert tutelage of Davie and Jamie. The students also had a go at using a shave horse and a wood axe.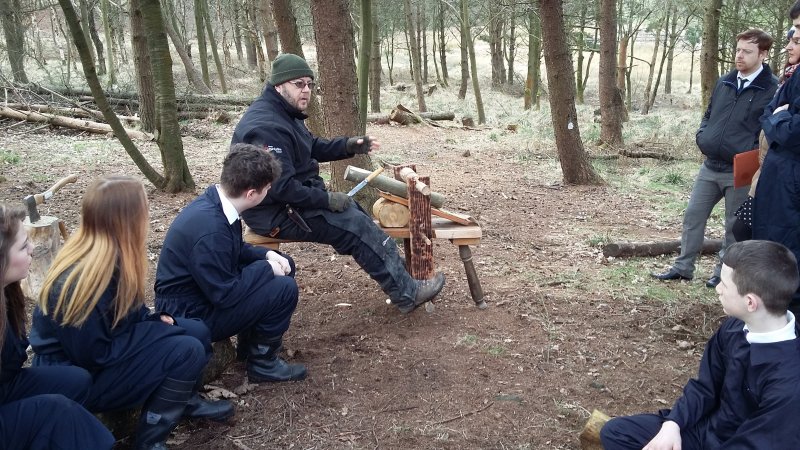 The NLC Countryside Rangers are an amazing team of men and women who do so much to help protect and enhance our reserves and parks. Their day to day tasks vary from tree surgery work, wildlife protection, education, managing volunteers, practical conservation on site and delivering mental health and well-being workshops. Their expertise is incredible and it is always a pleasure to work with them on projects within Cumbernauld.
You may already be aware that in Cumbernauld alone there are eight large community parks, reserves, and greenspaces owned and managed by NLC which the Rangers help to look after. Bear in mind that the Rangers cover all of North Lanarkshire – from Wishaw to Shotts, Banton to Stepps – a huge expanse for a very small team. I for one would like to thank them for coming out with us to teach the students a fun, exciting and useful craft. Did you know that the Rangers also run carving courses at Palacerigg? Click on the link below to find out about activities and courses in the 2016-2017 Greenspace Diary
---
Cumbernauld LL