Green Routes
Green routes feasibility project
Cumbernauld Green Routes is part of the Cumbernauld Living Landscape program. It is looking to transform the centre of Cumbernauld and its links to surrounding communities by creating green routes which are accessible, safe and enjoyable. The feasibility project is investigating at the quality of the existing routes and how they could be improved for people and wildlife.The project is being delivered through the generous support of the SUSTRANS Community Links Fund, Central Scotland Green Network, North Lanarkshire Council, Glasgow and Clyde Valley Green Network and the Scottish Wildlife Trust.
Our research so far
To find out what the barriers are for both people and wildlife the project has carried out extensive research. This has engaged people from across the routes and carried out detailed wildlife habitat surveys.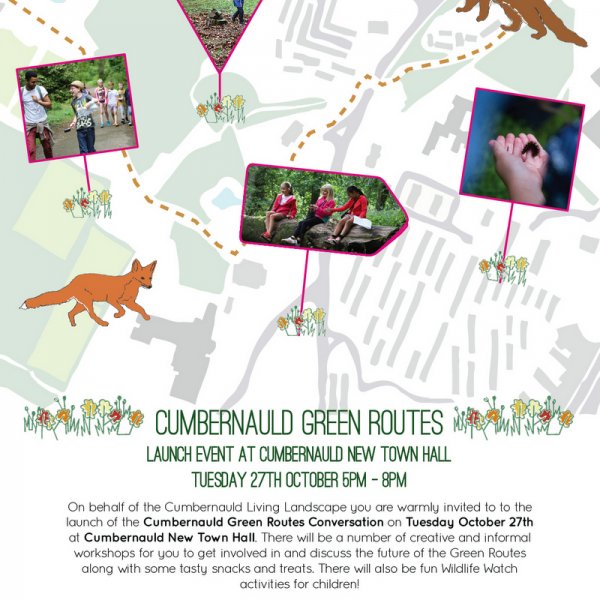 The launch event in Cumbernauld Town Hall on Tuesday 27th October 2015 got the conversation started. There were a number of creative workshops for people to get involved in and fun games for the kids.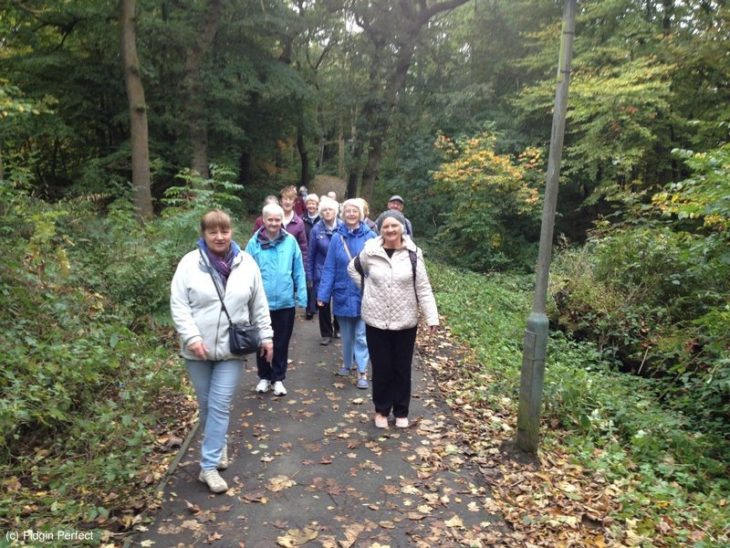 Our research into Cumbernauld's Green Routes began on the ground accompany local walking groups along three key routes, using their knowledge and experience to gain an understanding of how the Green Routes are used currently.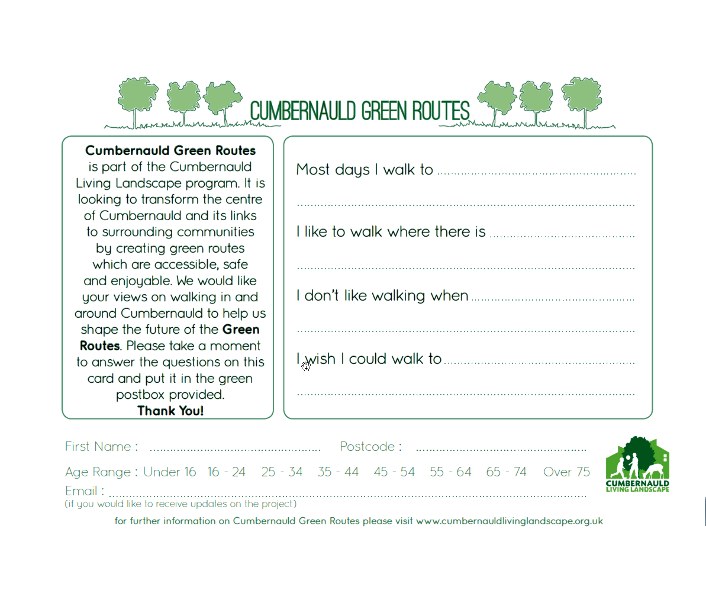 Through October and November 2015 there were several wee green boxes around the town just waiting to hear your views. People could get their hands on one of our postcards and tell us about their green routes.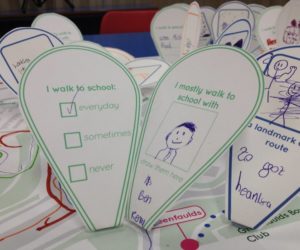 Following on the launch event, we worked with several community groups to explore in more detail the key themes raised by the local people of Cumbernauld about the Green Routes.
Rounding up the consultation process, the design event involved local stakeholders and members of community in a series of design-led workshops. This collaborative process was an opportunity to visualise what Green Routes might look like in the future.
Detailed design
Maps of the routes alongside images of what they could look like were displayed in an exhibition in Cumbernauld town centre. The slideshow below brings to life some of the ideas. With a range of partners we are developing detailed plans to take the project forward. If you or your organisation would like to play your part please get intouch
Tell us your views
We would love to hear your feedback on the Green Routes project, tell us your views below.
More