Weird Cumbernauld place names
, by Cumbernauld Living Landscape
Local resident Kate Fromings has written this guest blog about the weird origins of place names in Cumbernauld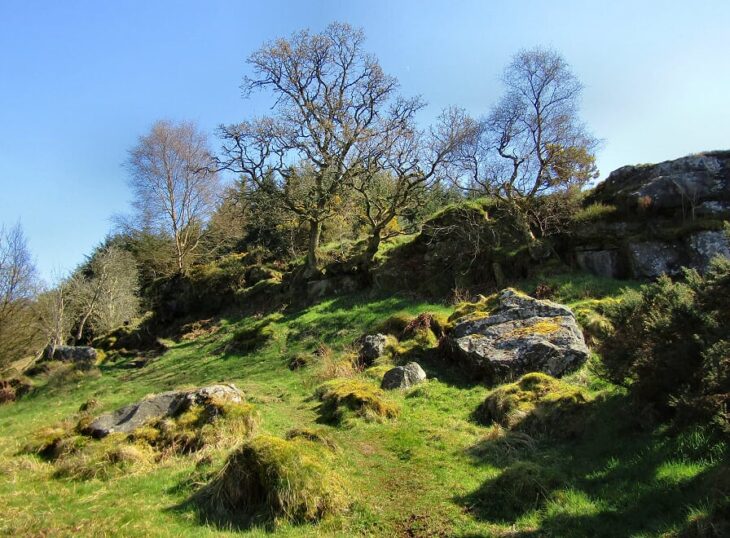 ©Kate Fromings – Crags at Walton Burn
©Kate Fromings – Luggie Water
Have you ever heard a strange word and wondered how it came to be used? In nature we find that words are often passed down from our ancestors to describe features in the landscape or objects. Up here in Cumbernauld it's no different!
How did the Luggie Water get its name? Well, a quick search reveals that a luggie is specifically Scottish. It means 'a vessel for carrying liquid that has a handle on the side'… but this doesn't sound much like a river! Look a little closer and we find that luggie was once also related to the old Gaelic word luath meaning fast or rapid. It was probably mistakenly translated by settlers from the south when they heard the locals describing the river.
I'm sure that everyone knows a person called Craig, we even have the famous Craig Ferguson who took a little bit of the 'nauld to The States with him. But what is a craig? There are plenty of them round about here, just take a look along the edge of the Walton Burn… It comes from the Gaelic word creag which means rocky hill or outcrop!
If you wander through Cumbernauld towards the glen you might come across the Bog Stank. No, it's not a filthy midden. In fact it's a beautiful little stream that emerges from a spring north of Eastfield. Stank comes from the old French word 'estanc' meaning pond or lake. The water creates pools as it winds slowly through the bogs and the glen.
Next we have the infamous and annoying cleg. These irritating flies pack a painful punch when you're out in fields and woodland. While most of England calls them 'horseflies', Scotland calls them clegs. There are over thirty species of this type of fly. The most common one to be bitten by is the notch-horned cleg-fly… which we helpfully shorten to 'cleg' or 'arrrgh-get-that-thing-aff-me!'
Finally, a bit of a rare word; have you heard of a hurcheon? They're spikey, nocturnal and they can be very noisy… That's right, it's a hedgehog. This term was first recorded as being used in Scotland more than five hundred years ago. Nowadays it's mainly used around the west coast and the north, in places that have kept up the auld language. Originally it came from ancient France and was spelled 'herichon', you can hear that 'irchon' sound in 'urchin'. In fact, the sea urchin also came from the same word as both are balls covered in spines!
Why not search for an unusual local word online and see what you can find?
---
Cumbernauld Living Landscape