Wild Ways Well 21st May
, by Paul Barclay
We've been enjoying the weather with the various Wild Ways Well groups over the past couple of weeks.  I'm not saying that there's more benefit to getting out amongst nature when the sun is shining, but it's certainly easier to get motivated!
We've been spending a lot of time in amongst the various bluebell sites to be found around the town and we've explored Cumbernauld Glen and Luggiebank looking for signs of these beautiful plants.  Both these sites are looking spectacular just now with carpets of blue flowers and the delicate fragrance of the flowers drifting in the breeze.
While we're out there walking it's been a great opportunity to Learn about the mythology associated with bluebells and also about the current problems like climate change and the advance of the Spanish Bluebell which threatens native populations.  Did you know the UK was home to 50% of the world's common bluebells?  And that it's only really here that we get these spectacular bluebell woods.  They're one of the natural wonders of the world and they're right here in Cumbernauld!
We've been reading poetry, my particular favourite is one by Anne Bronte
"A fine and subtle spirit dwells
In every little flower,
Each one its own sweet feeling breathes
With more or less of power.
There is a silent eloquence
In every wild bluebell
That fills my softened heart with bliss that words could never tell."
We also took time to just sit down by the river in the sunshine with a cup of tea made by the fire and drink in the sounds and scents of the woodland.  We sketched and photographed the flowers and had a go at skimming stones (turns out I'm really bad at skimming stones!?  My 11 year old self would be appalled at my lack of technique!)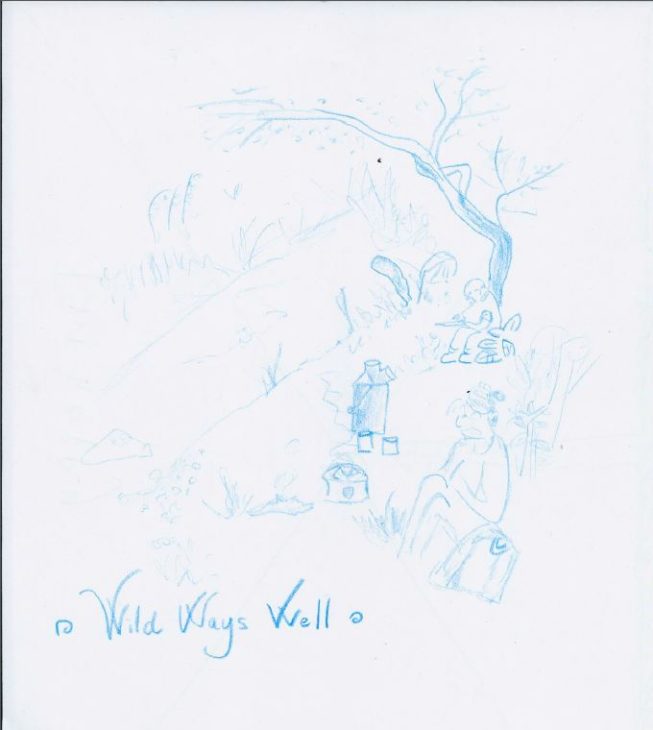 We had some new people out with us this week so it was their first go at making the fire and at soundmapping, its always great to see how people take to these at first, you can almost see people relax into the activities – there's often a bit of frustration around getting the fire started but pretty much everyone gets there eventually and there's always that feeling of achievement and confidence – it'd be no fun if it was too easy!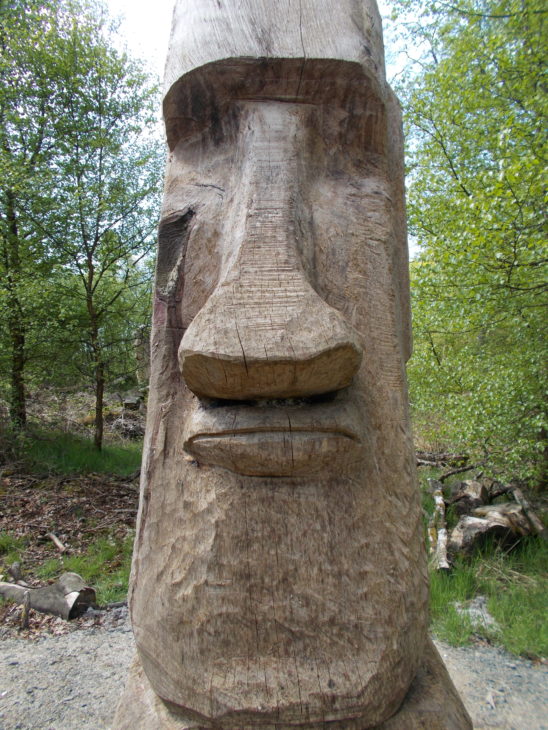 We also took a walk up to Forest Wood and enjoyed the scenery, looking for Pine Martens and discovering the Moai statues that have been created by the path.  The ground up there was tinder dry and you could see where previous fires had cut across the peatland – we would never start a fire on peatland anyway but in these conditions it was easy to understand how even a single spark could have devastating results.
I think it's important to remember that along with new skills comes new responsibilities and we always talk about that within our groups.  Respect for nature and the places we visit comes very high on our list of messages to get across in Wild Ways Well. As always we left no trace of our visit and took our rubbish (and some other people's) home with us.
If you'd like to take part in a Wild Ways Well session then get in touch.
Wild Ways Well is a partnership project between The Conservation Volunteers and The Scottish Wildlife Trust, delivered by Cumbernauld Living Landscape and funded by the Green Infrastructure Community Engagement Fund and Transport Scotland with the support of Scottish Natural Heritage.
Paul Barclay
---
Paul Barclay