Natural Connections Moia to Forest Wood than you think
, by Tracy Lambert
Visitors to the Scottish Wildlife Trust's Forest Wood reserve may have come across the carved wooden pine martens hiding in their natural habitat, but did you know this woodland has now sprouted four statues based on Easter Island's famous moai too?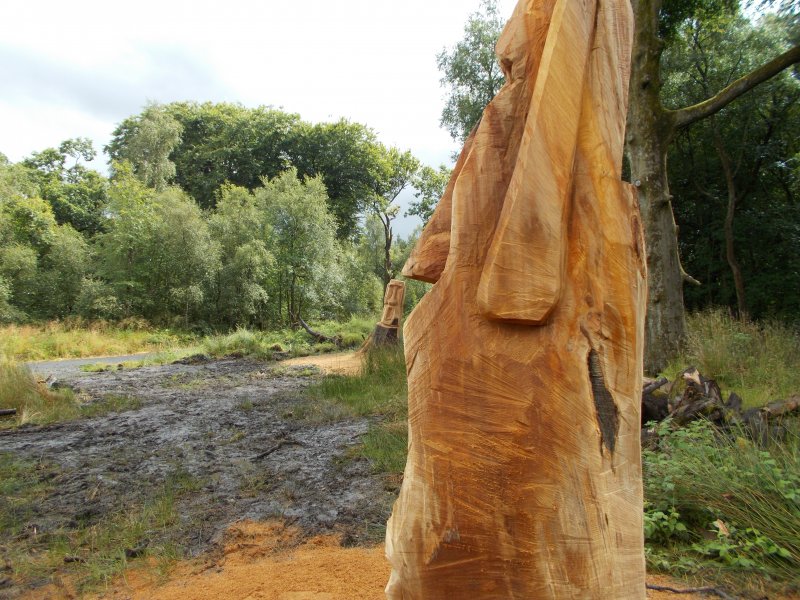 All of these sculptures are part of a project funded by WREN's FCC Scottish Action Fund, which has led to better paths and other access improvements as well as new information panels. These improvements help people to explore the woodland and find out why it is important for wildlife.
The new carvings were completed in just five days by the Reserves Manager Duncan Clark and chainsaw sculptor James Elliot. But what's the connection to Easter Island?
Duncan told me the story of the original moai statues. The islanders cut down all the trees to allow them to move the massive stone heads, effectively destroying their island's ecosystem for an act of vanity. Sadly this a theme that seems to have been repeated over time in many parts of the world.
But it's not all doom and gloom. One of James's works is of a Green Man, so there is also hope in this symbol of rebirth and the representation of each new spring and the life of the forest.
We have had a fantastic response from the public for these works and the statues are great conversation pieces. So why not explore Forest Wood for yourself? Remember you can post your photos to the Cumbernauld Living Landscape Facebook page.
We will be posting an end of project survey on our Facebook page soon and would like to take this opportunity to ask you to help us out and donate 5 minutes of your time to fill it in wither you have been a partner, participated with one of our workshops, Wildlife Watch days, events or have been a visitor to one of the three sites we have worked on (St Maurice's Pond, Ravenswood LNR and Cumbernauld Glen).  We would love to hear from you.
Tracy Lambert is the Community Engagement Officer for the 
Natural Connections
 project. If you would like to get involved contact Tracy via 
email
 or visit our 
Facebook 
page.
---
Tracy Lambert