Water of Life
, by Laura Healy Smith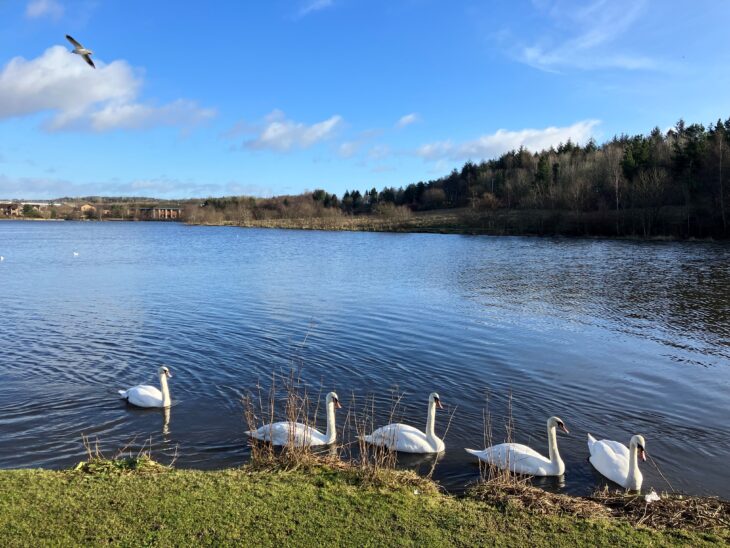 These mute swans are just one species who benefit from living at St Maurice's Pond (c) L Healy Smith
It's been amazing to have such a run of sunny weather of late, hasn't it? Sun is great in so many ways: it makes us feel happier and gives us vital vitamin D; it's fantastic for insects like butterflies, damselflies, and dragonflies as they emerge; it helps our gardens to flourish and wildflowers to grow.
However, the recent spell of sunny weather has a flipside for us – and for nature. Water shortages and hose pipe bans are recent phenomenon and are, of course, a result of global warming. Our changing weather systems are wreaking havoc on the planet, and we are not untouched here in Cumbernauld.
If you think about the fantastic water habitats we have in the town, you're probably visualising St Maurice's Pond, Broadwood Loch, the Luggie, Bog Stank, Red Burn and Moss Water to name a few.
On recent visits to Broadwood Loch and St Maurice's Pond, I was dazzled by the vibrant turquoise and ruby colours of azure and large red damselflies. These species need sun and water in equal measure. They enjoy emerging when the temperature has risen, but they also need water sources for food (they feat on midges and mosquitoes mostly) and to lay their eggs in.
Water habitats supply food for birds, invertebrates and mammals and are an important source of life within our ecosystems. Recently, though, the team at Cumbernauld Living Landscape have noticed extremely low water levels across the town. This isn't great news for our wildlife depending on water for hydration, as a means of transport, and for food purposes.
Hopefully our old friend, rain, will make a reappearance soon and help replenish the water levels. There are some things we can do, in general, to save water in our daily lives. Here are some top tips!
If you're a gardener, get yourself a water butt which catches natural rainwater when it rains, and you can fill up your watering cans from there without turning on the tap. Turn off the tap when you're brushing your teeth and back on again to rinse. Everybody loves a bath, but switch to showers to use a fraction of the water. Fill up your kettle only for water you require at a time, and you'll be helping to prevent water shortages.
We take it for granted when water comes out of our tap, but nature doesn't have that luxury. If we take steps to use less water and, generally, be more mindful of our impact on the environment we can hopefully reverse some of the damage done for ourselves and for nature.
---
Laura Healy Smith