A fun way to explore our greenspaces
, by Cumbernauld Living Landscape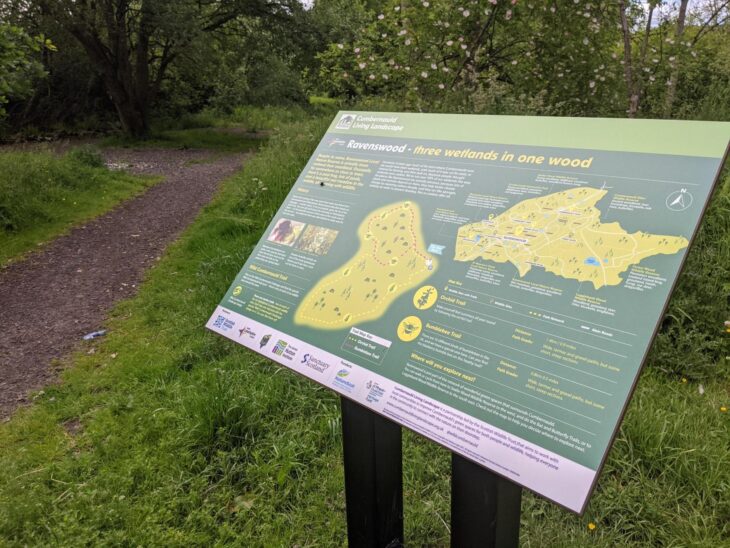 If you go down to the woods today we hope you will have a nice surprise! We have installed new interpretation panels and will soon be putting in activity trails at six greenspaces around the town: Ravenswood, Mosswater, Broadwood Loch, the Community Park, Seafar Wood and Cumbernauld Glen, which we hope will help you get the most out of your visit.
We talked to local people who visited these local greenspaces and asked them what would make their visits better. They told us they wanted more information to give them the confidence to explore them more, and new ideas of ways to have fun when they were there. They also said they were interested to find out how all the different places linked together, so that it would be easier to get from one to another on foot or by bike.
So our new panels try to do just that. There are maps of each the sites, and a big map showing how they all link together. We have also created 12 activity trails, two for each site, which will be going in soon. These are wildlife themed trails – Bat, Butterfly, Bumblebee, Frog, Woodpecker, Orchid, Bluebell, Otter, Oak, Dragonfly, Yellowhammer, and Pine Marten – with lots of activity ideas to get children (and adults with a sense of fun!) interacting with the nature on their doorsteps.
The panels also have snippets of information about the wildlife and history of each place, which highlight what an amazing place we live in! They have all been produced thanks to funding from the National Lottery Heritage Fund, and developed with the help of our partners Scottish Wildlife Trust and North Lanarkshire Council.
Do keep a look out for them when you visit. We really hope you enjoy them and find them useful as well as fun. In a couple of weeks' time we be posting more information about the activity trails on our website at www. cumbernauldlivinglandscape.org.uk, so that you can explore them while we are waiting for the trails to be installed. Keep a look out!
---
Cumbernauld Living Landscape