Access to Cumbernauld's wildlife just got easier
, by Cumbernauld Living Landscape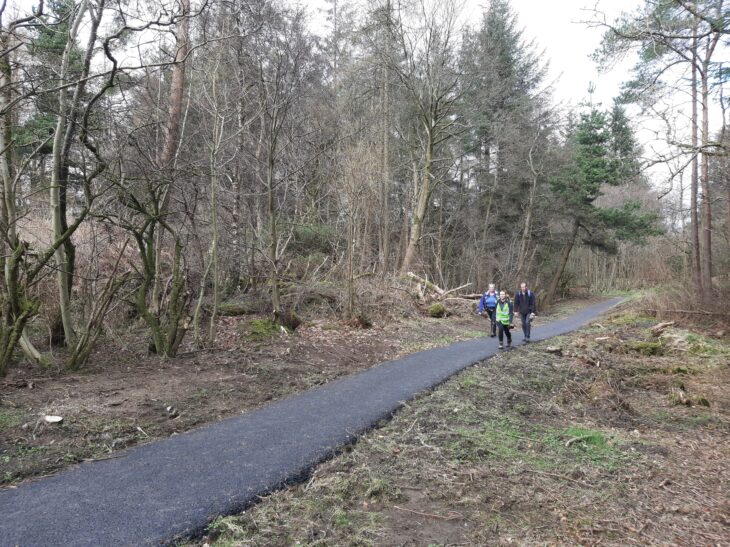 Cumbernauld walkers and wheelers will find it easier to explore the Scottish Wildlife Trust's Seafar Woods Wildlife Reserve, and North Lanarkshire Council's Ravenswood Local Nature Reserve, thanks to access improvements carried out through our Cumbernauld Living Landscape's Access to Nature project over the winter. 760m of paths – over three-quarters of a kilometre – have been upgraded. The project was mostly funded thanks to the Campsies Centre Cumbernauld Ltd. North Lanarkshire Council managed the project, with contractors working through December and January to get the work done.
Muddy, rutted paths have now been resurfaced and drained, so that lots more people can get out to enjoy their local wildlife. And these woodlands are definitely worth exploring – they are alive with birds all year round, and full of wildflowers, bees and butterflies as the year progresses.
Cumbernauld is actually an incredibly green place, with woodlands and wildlife reserves virtually surrounding the town. But some of the paths that lead into them had become very muddy and in some spots frequently flooded. One of Cumbernauld Living Landscape's main aims is to help everyone in the community to connect with the nature on their doorstep – and improving the paths is one of the best ways to do that. We hope it will encourage even more people to get out and enjoy our wonderful green spaces.
You can find details of where the upgrades have been made on the Cumbernauld Living Landscape website at https://cumbernauldlivinglandscape.org.uk/project/access-to-nature/
---
Cumbernauld Living Landscape