Choo, Choo, this Trainee is leaving the Station!
, by Cumbernauld LL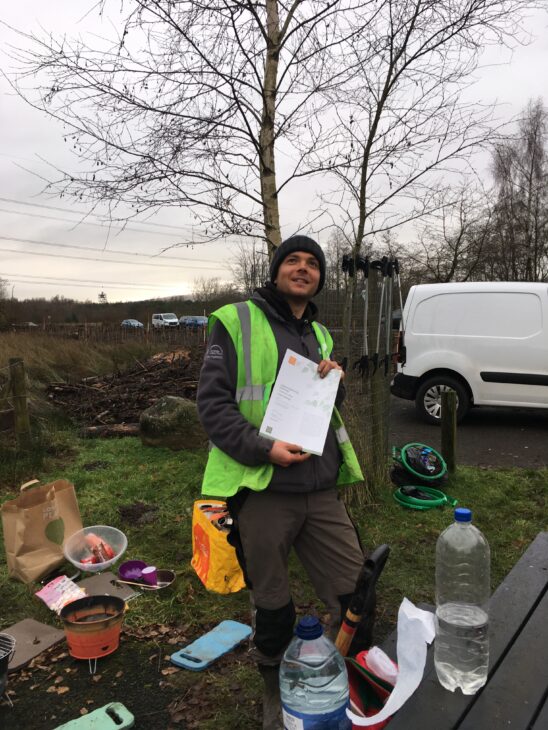 On 4 September 2019 I officially joined Cumbernauld Living Landscape and as I sit here writing this its hard not to be emotional.
How do you reflect on one of the most pivotal times in your life? Let's try.
Three years ago, poop lying on the ground was something to be avoided, now it's a thing of marvel and intrigue "What animal left it?". Three years ago, a yellow flower was a yellow flower, now it's ragwort that exclusively supports a cinnabar moth. Three years ago, a tree was a tree, now it can be a native oak that supports hundreds of living things, or a non-native Sitka that supports only thirty.  Three years ago my life lay in the hospitality sector with no way out as I'm thirty years old and too old to learn anything new. Now it's two years sober and looking forward to helping just a little each day to make this beautiful place we call home a better place.
In case any of you were wondering, my contract may be ending but you are not getting rid of me that easy, I will still be helping out with Wild Ways Well and trying to help out the same way that Wild Ways Well has helped me in turning my life around. I will still be helping with Nature Ninjas providing bad puns and horrible jokes.
My traineeship with CLL has been one hell of a year, from the depth of knowledge and training I have received to Fiona going out of her way to secure an extension on my contract during lockdown. The best part by far though has to be every single person I have met from the weekly volunteers to anyone wanting a chat at gala days to getting lost in graveyards during bat walks, the list is endless and being able to share knowledge and learn from everyone has been the biggest and best part of it all for me.
I want to say thank you to everyone in the CLL office – Duncan, Billy, Gill, Tracy, David, Tim, Fiona, Cathleen, Ian, but special thanks to Paul who has been there and supported me from my first session to now.
Thanks everyone for a hell of a ride and looking forward to a lot more.
Love you all,
Grant
Cumbernauld Living Landscape are currently recruiting another trainee. To find out more and apply, visit the Scottish Wildlife Trust website
---
Cumbernauld LL