Cumbernauld Living Landscape wins National Lottery support
, by Cumbernauld LL
Cumbernauld Living Landscape has received initial support from the Heritage Lottery Fund to develop its Creating Natural Connections project. This is a four-year initiative that aims to make the town's woods, parks and open spaces better for wildlife and people with the support of National Lottery players.
The project hopes to work with young people and community groups to build a network of people who care about, and have the skills to care for, the town's greenspaces. The natural environment will be improved through measures including increasing native woodland cover, removing non-native invasive species and creating new wildflower meadows.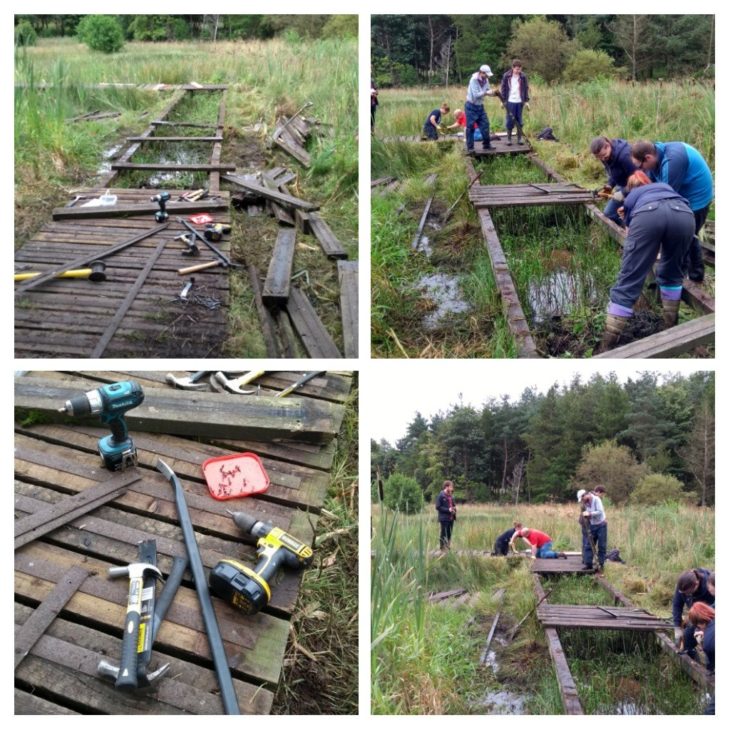 Greater connections between local people and the nature in their neighbourhood will be forged through activities and events, imaginative artworks and new interpretation, and practical volunteering.
Creating Natural Connections is a partnership project between the Scottish Wildlife Trust, North Lanarkshire Council, The Conservation Volunteers, Sanctuary Scotland and the James Hutton Institute. It builds on work carried out in the town by Cumbernauld Living Landscape since it was launched in 2013.
Ian MacKenzie, Project Manager, Cumbernauld Living Landscape, said: "Cumbernauld is one of Scotland's greenest towns. It's criss-crossed with woodlands, meadows and ponds that are rich in wildlife, but we have a lot of work to do to ensure that local people benefit from what's on their doorstep.
"The volunteers and school students we've worked with so far have gained practical skills and confidence that will stay with them for the rest of their lives, and Cumbernauld now has several better places for wildlife as a result of the thousands of hours that has been spent improving them.
"We're delighted to have received support for our Creating Natural Connections project thanks to the support of National Lottery players. This will build upon what has already been achieved to date and help to create a network of people in the town who are committed to the long-term future of its green spaces."
Cumbernauld Living Landscape is also celebrating the achievements of the past two and a half years groups of young people from four high schools in the town worked on three nearby greenspaces: St Maurice's Pond, Ravenswood Local Nature Reserve, and the Scottish Wildlife Trust's Cumbernauld Glen Wildlife Reserve.
More than 200 young people took part in workshops and practical conservation work, and local volunteers gave up nearly 2,000 hours of their time, gaining valuable skills and experience. As a result of this work thousands of wildflowers and hundreds of trees have been planted within the sites, 80 large sacks of litter have been cleared, and more than 5 kilometres of paths have been improved.
This trial project was supported by the Heritage Lottery Fund, North Lanarkshire Council, NHS Lanarkshire, Sanctuary Homes and Tesco Bags of Help, and was recently shortlisted in two categories in the prestigious Nature of Scotland Awards. This ground-breaking pilot work will now act as a springboard for the new Creating Natural Connections project.
Head of the Heritage Lottery Fund in Scotland, Lucy Casot, said: "It's exciting to see plans for a project which will build on what has already been very successfully achieved by the Scottish Wildlife Trust's Nature Ninja's, and young people in Cumbernauld, in connecting the community with the abundant green spaces in and around the town. We're delighted to give it our initial support."
Emma Louise McGurk, a student at St Maurice's High School who took part in the project said: "Before I started working with Cumbernauld Living Landscape I didn't know what I wanted to do when I leave school. Getting involved has given me conservation, teamwork and communication skills, and made me realise that I love working outdoors."
Cumbernauld Living Landscape is a partnership led by the Scottish Wildlife Trust, North Lanarkshire Council, Forestry Commission Scotland and The Conservation Volunteers."

---
Cumbernauld LL