Friends of Cumbernauld House Park's #LivingWindow
, by Cumbernauld LL
As the community group working to improve and promote North Lanarkshire's largest town park, the Friends of Cumbernauld House Park were delighted to be invited to contribute to the fantastic #LivingWindow project.
From our initial meeting with Emily Shepherd, our assigned artist, and from the subsequent tour of Cumbernauld House Park, it was clear that Emily quickly had a unique vision of how to present the park. With the 18th Century, grade-A listed, Cumbernauld House being the overwhelming feature of the park, it really had to be a clear focal point of our artwork. This, combined with our abundant green space, formed our three-dimensional exhibit, with Emily also perfectly capturing the undulating landscape of the park.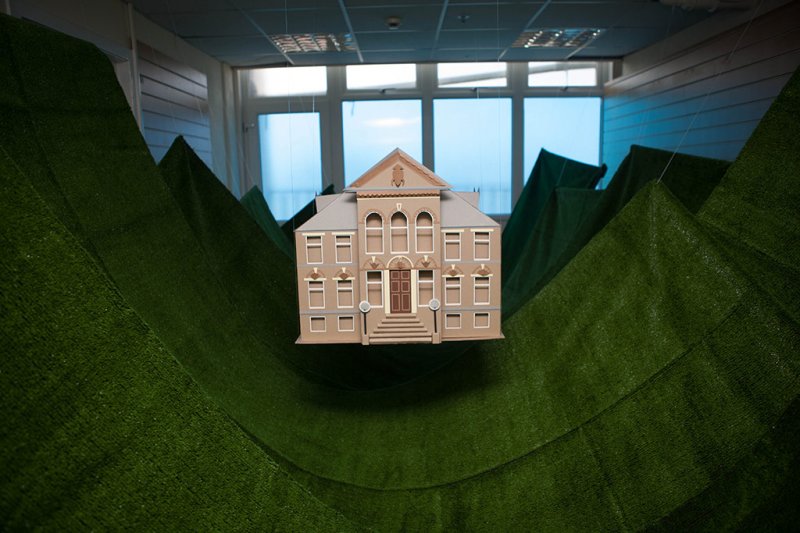 Throughout the project I was incredibly impressed with the vision and passion of the team at Pidgin Perfect, the creative studio commissioned to develop the #LivingWindow project. The initial presentation showed them to be accomplished, knowledgeable and massively experienced, and we were instantly comfortable with the direction of the project and eager to see the end result.
The Living Window project is a fantastic achievement for Cumbernauld Living Landscape and certainly meets their key objective of better connecting people with the local environment. People who have never visited their local parks or nature reserves, and who may not even have been aware that they existed, now have these bright, colourful, and attractive displays to show them that Cumbernauld has an incredibly rich environment which they should get out and explore.
As one of Cumbernauld's key greenspaces, it was only right that Cumbernauld House Park be featured in this brilliant Cumbernauld Living Landscape initiative, and our involvement in the #LivingWindow project will undoubtedly help us to further promote the park to those who live in, work in, or simply visit our town.
Adam Smith is Chair of
Friends of Cumbernauld House Park
, a local community group dedicated to promoting and improving Cumbernauld House Park, the largest town park in North Lanarkshire.
---
Cumbernauld LL