Let's Go Wild!
, by Laura Healy Smith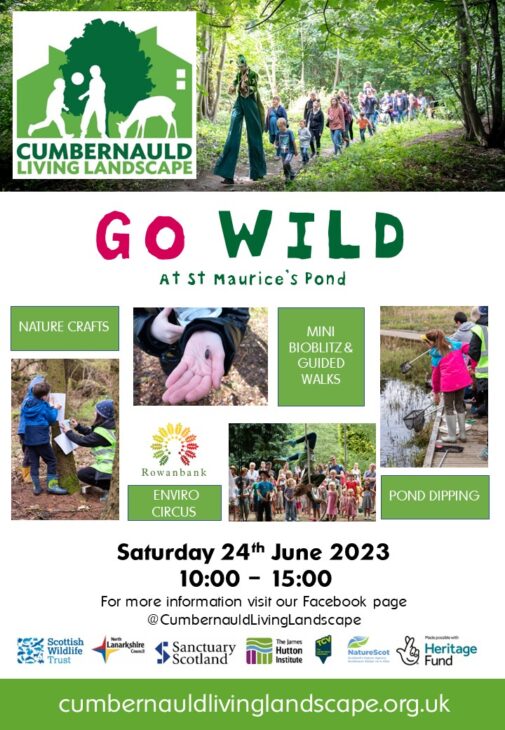 Our current project, Creating Natural Connections, is coming to a close at the end of June. It's been an interesting time to be delivering a project, with a global pandemic thrown into the mix, but we are ready to celebrate the achievements made over the past four years.
To do this, we are hosting a 'Wild Week' of events and activities, which will run at greenspaces and sites we have worked on across Cumbernauld, from 19th – 24th June. A large part of the project has been the involvement of members of the community and groups who are doing inspiring work and taking steps to improve their local greenspaces. Craigieburn Community Garden and Cumbernauld Village Langriggs will both be offering walks and talks (on Monday 19th & Wednesday 21st June, respectively) to show the changes they've put into action and how these have benefited biodiversity.
One of the areas we have worked in is Carbrain Gully. We will be running a fun community muck-in session on the Wednesday from 10am – 12:00: just turn up and get ready to roll up your sleeves! All are welcome.
Throughout the project, we have worked with many talented local people. We've been lucky to team up with local artists, to merge nature and creativity, and one of our artists in residence, Kristine Walker, will be running an 'Art in the Park' session at St Maurice's Pond on Tuesday 20th June. Beginners are welcome and places must be booked in advance for this one.
An important highlight of the project has been the relationship between being outdoors, experiencing the natural world, and the positive impact this can have on mental health and wellbeing. Our Project Officer, Camilo Brokaw, is a Qi Gong enthusiast and he is running an outdoor session at Cumbernauld Glen on Friday 23rd June. Again, beginners are welcome and it's a lovely practice to re-connect you to nature and yourself.
Our 'Wild Week' culminates on Saturday 24th June with a 'Go Wild' event at St Maurice's Pond. From 10am – 3pm, come on down for a family-friendly day of guided nature walks, craft activities, pond-dipping sessions, bug and beastie hunts, mini bioblitzes and more. We will be joined by our project partners: The Conservation Volunteers Scotland, North Lanarkshire Council Countryside Rangers and Scottish Wildlife Trust Young Leaders. We are privileged to have Rowanbank Environmental Arts on the line-up, too. They will be offering performances throughout the day of their amazing enviro-circus, featuring hula hoopers, trapeze artists, fortune tellers and musicians.
All events are free for you to enter, and Creating Natural Connections has been made possible thanks to players of the National Lottery.  Please check our EVENTS PAGE for further details and keep up to date on our Facebook page @CumbernauldLivingLandscape
We hope to see you there!
---
Laura Healy Smith