Wild Ways Wildlife Detectives
, by Paul Barclay
The Wild Ways Wildlife Detective Agency was out in Seafar woods last week, inspecting the woods for signs of what other inhabitants might be sharing our space with us.
No detective force on the planet can run without a brew though so we stopped first to get a cuppa on the go.  Just ask Scotland yard, all detective work is done better with a hot drink in your hand.
We had a chat about John Muir and the John Muir award while we enjoyed our hot chocolate.  Everyone who comes to a Wild Ways Well course will get the chance to take on a John Muir award, which is a nationally recognised conservation award and serves as a real tangible reward for coming along and donating your time to conservation.  As part of John Muir we have to Discover, Explore, Conserve and Share nature so we discussed ways we might do this over the coming weeks.  It's a rolling award programme so new members will still be able to join and receive their certificate once they've put the hours in.
After we'd all finished our drink we put our detective hats on (not literally, although I'd be up for it) and went looking for the wildlife.
We were primarily trying to track down mammals so we looked for mammal trails through the woods and followed their paths, looking for signs of footprints and tell tale signals about who had been about.  We spotted lots of sign of dogs but also roe deer, fox and badgers – including a brilliant badger footprint.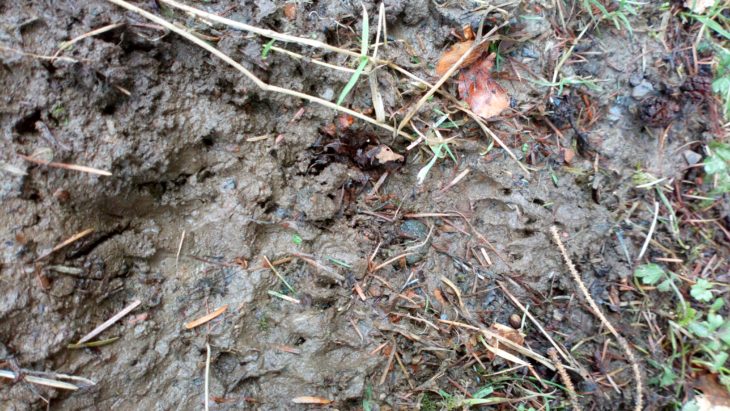 Along the way we also came across a couple of crime scenes … but not anything we'd have to report to the police!  Although there had been a murder, it was of the feathered variety of life and the likely culprits were furred!  We found two separate sites where woodpigeons had been reduced to a pile of feathers and were able to use our detective skills to look at the signs and work out whodunnit.  We were able to quickly rule out sparrowhawks by examining the feathers and by looking carefuly at the other signs around were able to pin the crime on the local foxes!
If you'd like to join us on our weekly wanders around Cumbernauld you can find out more here Wild Ways Well or email me at pbarclay@scottishwildlifetrust.org.uk
Wild Ways Well is a partnership project between The Conservation Volunteers and The Scottish Wildlife Trust, delivered by Cumbernauld Living Landscape and funded by the Green Infrastructure Community Engagement Fund and Transport Scotland. 
---
Paul Barclay