Keep it clean! Big litter pick a massive success
, by Laura Healy Smith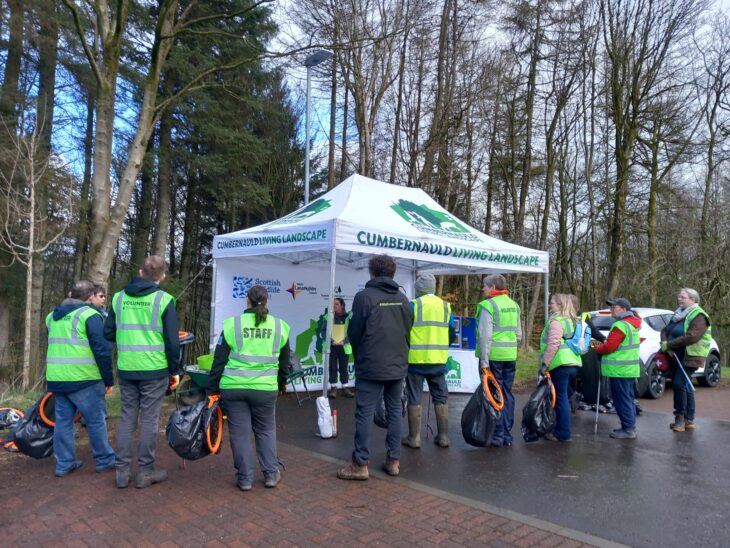 Volunteers gathered for a Big Spring Clean at Seafar Wood, picture (c) Laura Healy Smith
In case you missed the memo, our project organised a BIG litter pick throughout Seafar Wood Wildlife Reserve on 1st April! This event was in partnership with Keep Scotland Beautiful as part of their Spring Clean 2023. Since 17th March, the Nature Ninjas volunteer group have collected over 130 bags of litter in Cumbernauld, with 84% of the waste coming from the Seafar Wood area.
Turnout for the event was fantastic and we were grateful to be joined by Councillor Adam Smith (Ward 4- Cumbernauld East), MP Stuart McDonald (Cumbernauld, Kilsyth & Kirkintilloch East), local residents and our brilliant Nature Ninja volunteers. We managed to collect a staggering 68 bags of litter consisting of lots of glass bottles, single-use plastic items, shopping trollies, mattress springs, a carpet, and parts of a fitted kitchen!
We are so thankful to everybody who participated and used their free time to come out into a beautiful greenspace and leave it better than we found it.  As we remain in a litter and climate emergency, community action, such as gathering for a litter pick, is so vital to the state of our wildlife and our own wellbeing.
In Scotland, it is estimated that 41,000 tonnes of litter and fly-tipping is collected each year by local authorities, amounting to 250 million individual pieces of litter. This task comes with a hefty price tag of £46 million. On a smaller level, moving through spaces which are littered can cause increased adrenaline and cortisol levels in our bodies (which can make us feel anxious) as we are met with the visual proof that the condition of our environment isn't the best.
When littering occurs in nature, it has a negative impact on our wildlife. Bottles and cans are scavenged for food, leading to animals becoming trapped or hurt. Broken glass can physically harm animals. The 1.3 million disposable vapes which get thrown away weekly are not only a choking hazard to animals but are also a fire risk to all the plants and organisms wherever they are dumped.
The easiest way to reduce litter is simply to be more mindful of this chain and take your rubbish away with you. If you witness fly-tipping or littering occurring, then get in touch with your local authority. Let's keep it clean so that nature can benefit – as well as us.
Cumbernauld Residents can report it HERE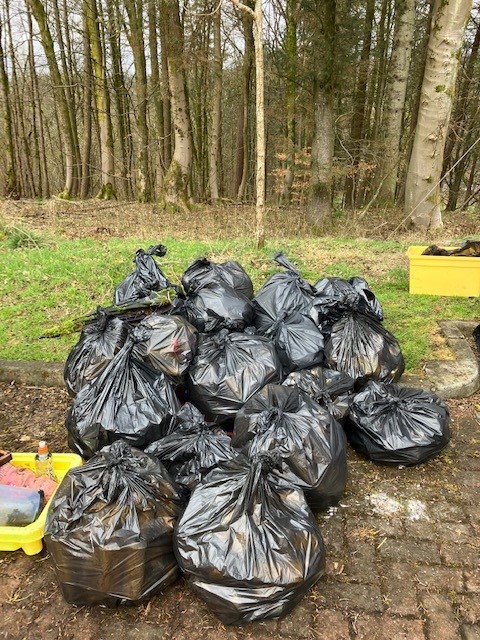 Some of the 68 litter bags we filled on the day! 
Written by Aimee Moretti.
---
Laura Healy Smith