Wild Ways Well Week 7th July
, by Paul Barclay
The Wild Ways Well Week
We're going to cover a couple of weeks in this exciting episode of the Wild Ways Well blog so please bear with me!
We visited a few different places with the various groups, we've been down to Cumbernauld Glen sitting by the river and listening to the birds, over by Luggiebank exploring the paths and deep into Seafar woods where we built shelters to protect ourselves from the elements.
It's a different feeling spending time in the woods in summer, the warm weather we've been enjoying means there is not quite such a crowd around the fire looking for warmth, and the demand for hot chocolate has definitely gone down!  One or two members have even stopped wearing big jackets and scarves, something I didn't think was ever going to happen.
We still have our fire though, while we maybe don't need its heat, we still enjoy the process of making it and the sound of the twigs crackling and smell of the woodsmoke is relaxing and comforting somehow.  Fire is important and I think something deep down in us knows that.  There's something reassuring about a small, controlled, fire – and there's no doubts in my mind that coffee tastes better made outdoors!
Plus of course, if you don't have a fire you can't have fresh popcorn or toasted marshmallows.  We've been experimenting with vegetarian marshmallows, with mixed success.  While they are still delicious, you have to be very careful they don't just turn to charcoal when heated.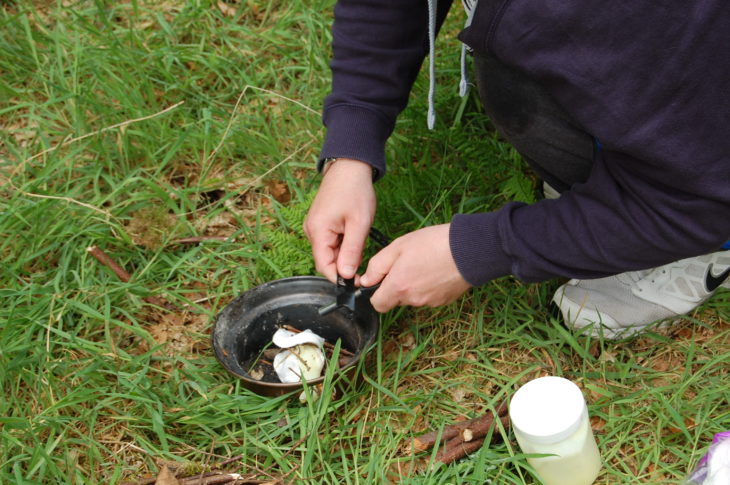 In the dry weather its worth taking a few precautions with the fire so we made sure to very carefully site it where it wouldn't spread and had lots of water on hand to damp down the surrounding vegetation and put out any stray sparks.
We didn't just look after ourselves at the sessions, all the groups made some lovely apple birdfeeders to give a little back to the wildlife on sites.
The shelter building was a lot of fun and everyone got a chance to test out a hammock, it was interesting seeing the different techniques and approaches different people take towards the shelter – we haven't yet had to make one in the rain, I wonder if things will go faster when people are keen to stay dry!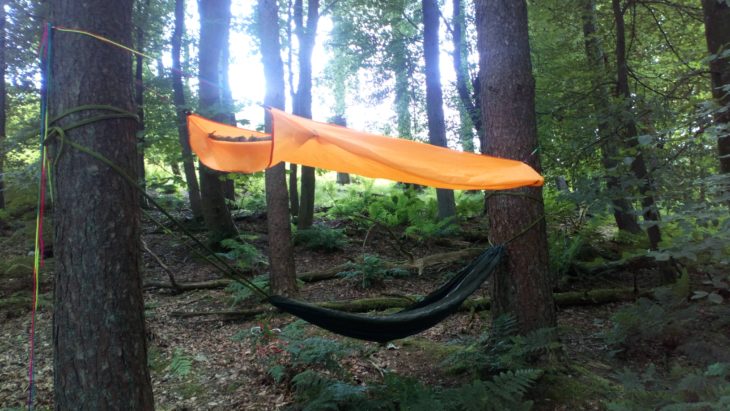 Finally we've done a fair bit of camera trapping, we have hours and hours of footage of a family of foxes which live in the woods in Cumbernauld, it's taking us a while to look through these but there are some great videos up on our facebook site of the little fox cubs and their patient parents!
www.facebook.com/CumbernauldLivingLandscape/
If you would like to take part in a Wild Ways Well Session then please do get in touch
Wild Ways Well is a partnership project between The Conservation Volunteers and The Scottish Wildlife Trust, delivered by Cumbernauld Living Landscape and funded by the Green Infrastructure Community Engagement Fund and Transport Scotland with the support of Scottish Natural Heritage.
Paul Barclay
---
Paul Barclay