Beating the Winter Blues
, by Paul Barclay
It's been a cold start to the year but that hasn't stopped the Wild Ways Well group from getting out exploring Cumbernauld's wildlife reserves.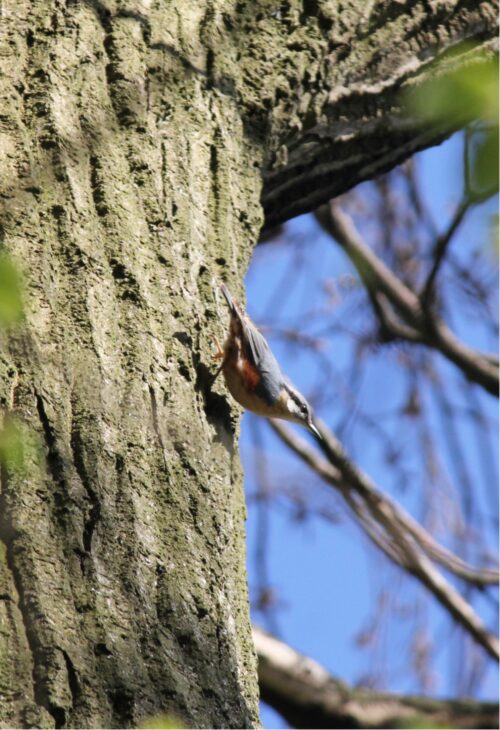 I suffer badly from Seasonal Affective Disorder, also known as 'the winter blues'. You might relate to an annual feeling of dread and depression during the dark days of winter. When it's a struggle to get up every morning and face the day and every setback feels like disaster.
Having people relying on me keeps me going and knowing I'm helping others pushes me even more. This is when Wild Ways Well helps me as much as it helps any of the participants.
A new member of the group recently said to us that when joining he felt like he was instantly among old friends and I knew exactly what he meant. There is a sense of camaraderie in being out with others in the cold, experiencing it together.
While exploring we've found the signs of longer days to come. The woods are filling with drifts of snowdrops and daffodils and the first green buds of leaves are appearing on hawthorn bushes.
We've stood under an oak tree and listened to the birds, goldfinches, blue tits, starlings and nuthatches, all full of song. We've even spotted a pair of foxes getting a den ready to raise this year's cubs.
And while we stood and took this all in the sun came out, we felt its warmth on our skin and I felt utter joy as the sense of renewal came swelling up from the ground around me.
It got me thinking that you can't have one without the other.  Would the sounds and sights of impending spring be half as joyous without the quiet and dark of winter before them?
If you'd like to join us on a Wild Ways Well session then check out the Cumbernauld Living Landscape website, find out more on Twitter and Facebook and get in touch.
Paul Barclay Community Networks Officer
---
Paul Barclay