Masterchef goes wild
, by Tracy Lambert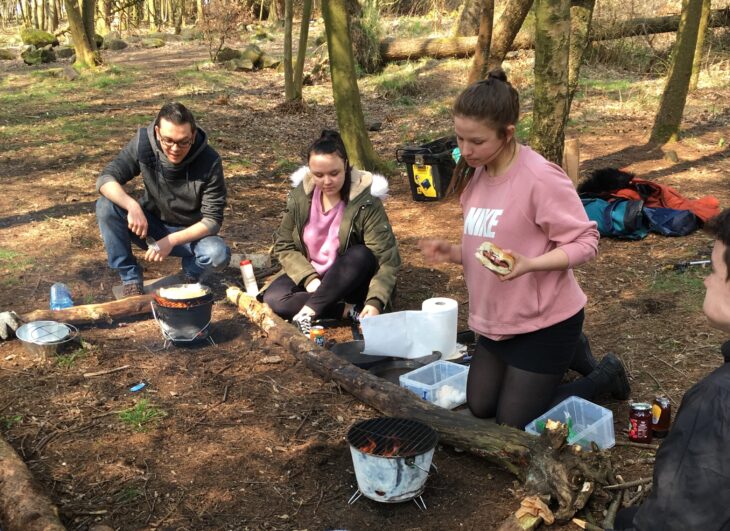 I held my last workshop of the school year year with St Maurice's High School last week. This session gave me a chance to observe the change in these incredible young people and to express what I saw to them, as they move on from school towards employment or continued further education.
While it was tinged with sadness to see another group coming to an end, I was also filled with pride and admiration for the young people in the group and how far they have come.
With the weather behaving, we finally managed to run the outdoor cooking element of the Creating Natural Connections workshops. This is a session which encourages teamwork, listening, independent working and cooperation.
It has very dry over the past couple of weeks so we set our fire in small barbecue buckets. We managed to cook sausages, pancakes, marshmallows and – adding a cultural edge from Cyprus – halloumi cheese!
I have never been able to get so much cooked before in one session and was amazed to see everyone wolfed down the food in literally minutes! How on earth did they have space? They had only just had their lunch!But, they worked off the feast while cleaning up the site and ensuring that no trace was left when we had finished.
Students across the town are about to head into exams this month and while this is an incredibly stressful time for young people, this group have learned that the value of the outdoors is more than just fresh air.
Being outside in nature has helped them to connect not only with nature but also with themselves. We're now looking forward to August and the next intake of students. You can keep up to date with how we get on through the Cumbernauld Living Landscape Facebook page.

---
Tracy Lambert