Roe a deer, a female deer….fawn is running right beside
, by Cumbernauld LL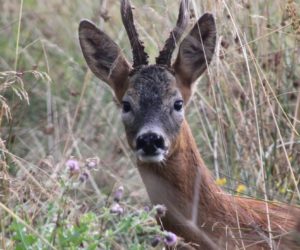 What are those deer doing? Why on earth are they fighting? As we enter the middle of the month it's time for one of Cumbernauld's most commonly sighted mammals to spring into action. Mid-July to mid-August is the roe deer rutting season, when males compete for territory and mates. Unlike their Red cousins the roe deer ruts much earlier in the year.
As you have been walking around outside you may have noticed antlers getting bigger and coats getting much brighter in preparation for the season. If you are lucky enough to see the rut when you are out and about it's a fantastic sight, but if like me you are walking the dog, always make sure you have them on their lead. Of course this advice isn't just for rutting season but any time you come across wildlife. We have all seen the "Fenton" video!
Someone once said to me "you will never see a fawn out and about, they're too well hidden!" Fortunately for us, wildlife doesn't tend to read the books about itself, as we found out last Thursday with our Wild Ways Well open group.
Meandering our way down to Seafar Woods, suddenly there was a hushed call. "Look up ahead!" There right in front of us, the result of last year's rut. A mother roe deer and her fawn were crossing the path, pretty casually and happily. As we walked further toward the meadow we were heading to, a rustling on our right-hand side again caught our attention. There, still walking beside us in the woods was mother and baby!
Have you had an encounter with deer?  Share your stories and pictures with us on Twitter or Facebook.
---
Cumbernauld LL