Wild Ways Well the Movie?
, by Paul Barclay
Last week our group had a very different experience. Untypically, the Tuesday group started with a wee drive up to Palacerigg for a film training led by two researchers from the James Hutton Institute in Aberdeen.
Leaving behind the animals in the cold spring we headed towards the very inspiring long houses which mostly look like upside down Viking ship's hulls.
The idea is to introduce groups to participatory videos. These are simply videos that a group can make together to carry out a message. Our training will be run over three Tuesdays for our group and includes two training days and a feedback day. The first afternoon started with an introductory game. We were to tell each other a wildlife story and present it to the other group as a mean of introducing ourselves. We were even allowed to draw it! So we heard encounters with a range of animals from deer, seagull, fox cubs, newts, otter's scats (easier to draw!) and more!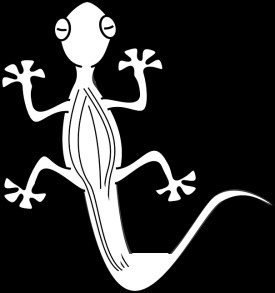 Then we sat in the theatre to watch a video made by members of a community in Nepal. After a discussion about what we watched and how we felt about producing our own video we had an indoors cup of tea and more biscuits than we could have dreams for.
The technical exercise came at that point. We were to teach one another how to use the recording equipment composed of: a microphone, headphones and a camera. It was really about connecting all these together without turning the cables into a spaghetti party. The researchers first taught one another and then everyone got a turn at being the learner and the demonstrator. Pretty soon, everyone was able to do sound checking and a camera shooting.
We were then ready for a jumping around game and we were back into pairs this time doing a mock interview. 'If you were an animal what would you like it to be and why?'After a passionate talk about our dream animal, we were definitely ready to go back to the equipment. We were now to film our interviews! So everyone found a job to do, some preferred being behind the camera, telling their stories to the microphone or just enjoying a listen.
And the best for the end… Watching our productions! After the initial embarrassment of seeing ourselves on the screen we were able to comment on them with our new technical eyes (a lot of our interviewees had the top of their heads chopped off, some were initially waiting for a question to be fired to them and were looking around desperately for a start, etc.). Finally, we shared our feelings about the experience of being filmed.  I think that a few of us was surprised on how easy it was in spite of the initial 'not me' reply!
It seemed that everyone enjoyed the day – but will they come back next week for more?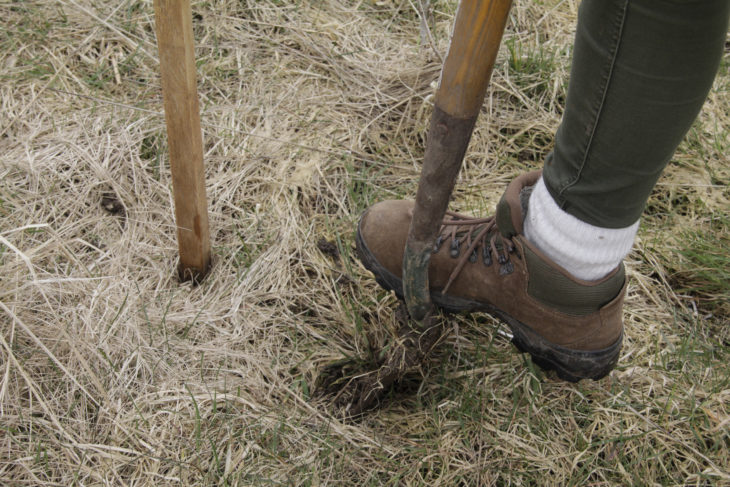 Our Thursday group had a complete different experience apart from the fact that we also started with a short ride in the car… to end up near Cumbernauld Community Park in the North of the town. There was a tree planting event organised by the Friends of Cumbernauld Community Park. We could also have explored the space, but everyone was happy to join the community run event. The walk took us on a maze of paths through more or less wild forested areas where we were on a lookout for signage. Eventually we found it and by that time, we were warmed up and ready for the spade! After a short demonstration we gathered the essentials: spades, tree guards, hammer, stakes and trees! This was an enjoyable workout and we took turn alternating physical work and setting the new tree in its home. Our small team planted 30 trees out of the 200 plus provided! There were pine, wild cherry, oak, beech and birch trees provided by the Woodland Trust. It was a job to recognize the seedlings by their buds!
Scotland has much less woodland cover than other countries in Europe. In 1900, only about 5% of Scotland's land area was wooded. Large-scale afforestation had increased this figure to about 17% by the early 21st century. Woodlands are a very rich habitat and have many benefits including carbon capture, purifying water and preventing flood risks.
So we felt all very good about ourselves except…. It was high time for the cup of tea. We headed back and we were already rewarded with the sight of a Roe Deer – most of us managed to catch the white behind at least as it retreated to the wood. We were also looking at dormant canes of wild raspberry and that reminded us that we should go on a forage once Dame Nature would have properly woken up!
And we still enjoyed the cup of tea and the sitting down for a good chat in the local supermarket!
Wild Ways Well is a partnership project between The Conservation Volunteers and The Scottish Wildlife Trust, delivered by Cumbernauld Living Landscape and funded by the Green Infrastructure Community Engagement Fund and Transport Scotland with the support of Scottish Natural Heritage.
Claire Bailly Wild Ways Well Project Officer
---
Paul Barclay