Discovering the Living Landscapes in Cumbernauld
, by Guest Blogger
When I was asked which environmental organisations I would like to visit as part of my internship, the Scottish Wildlife Trust and the Living Landscapes Project were definitely on my list. I didn't want to miss the opportunity to learn more about the work of one of Scotland's most important conservation NGOs.
I am originally from Hanover, Germany, where I am doing my Master's degree in environmental planning. Before I will hopefully enter into employment in spring next year, I wanted to spend time abroad and learn how other countries approach the topic of environmental protection and nature conservation in practice. Therefore, I moved to Stirling at the end of April and started an internship at greenspace scotland. greenspace scotland is Scotland's parks and greenspace charity and a social enterprise working with partners to pioneer new approaches to managing and resourcing greenspace. During my internship I was given the opportunity to get a taste of various projects around greenspaces and to dive into the Scottish green network, where the Living Landscape projects is an integral part.
Cumbernauld is characterised by two different features: its history as one of Scotland's New Towns and its green assets, as about 50% of the town centre are greenspaces. To protect and (re)connect these green areas – for wildlife and people – it needs an innovative approach. Although the Scottish planning system differs from the one in Germany, as far as I experienced environmental third sector organisations– both in Germany and Scotland – play an important role in practical nature conservation. During my visit and conversations, I experienced the Living Landscape Cumbernauld team as a set of motivated people giving nature a voice and advocating for sustainable and healthy green areas. It was amazing to hear about the vision and variety of projects of Cumbernauld Living Landscape and what has been achieved so far – although, as always in planning, several barriers needed to be overcome.
To have a greater first-hand experience of the project and the reserves, I joined a health group, run by Cumbernauld Living Landscapes with support of the The Conservation Volunteers. This was a new experience for me, as I have not taken part in such a programme before. Although the connection between nature and wellbeing is well recognized in Germany as well, the Five Ways to Wellbeing framework, was new to me. Connect, be active, take notice, keep learning, give. That is exactly what we did in that afternoon. We chatted and got to know each other during our time together. We were walking outdoors and enjoyed one of the rare sunny and warm days in Scotland. "See that trunk over there and the many holes in it? That was a young woodpecker." We were made aware of what we can see in our surrounding environment. While playing a wildlife game, we learned how the pelt, skull, footprint and poo of certain native mammals differ. We were helping each other, laughing and sharing a great time together.
Thank you to the Cumbernauld Living Landscape team for such an interesting day. You are working on a great project, which provides precious benefits for nature and people!
Anna-Lena Vollheyde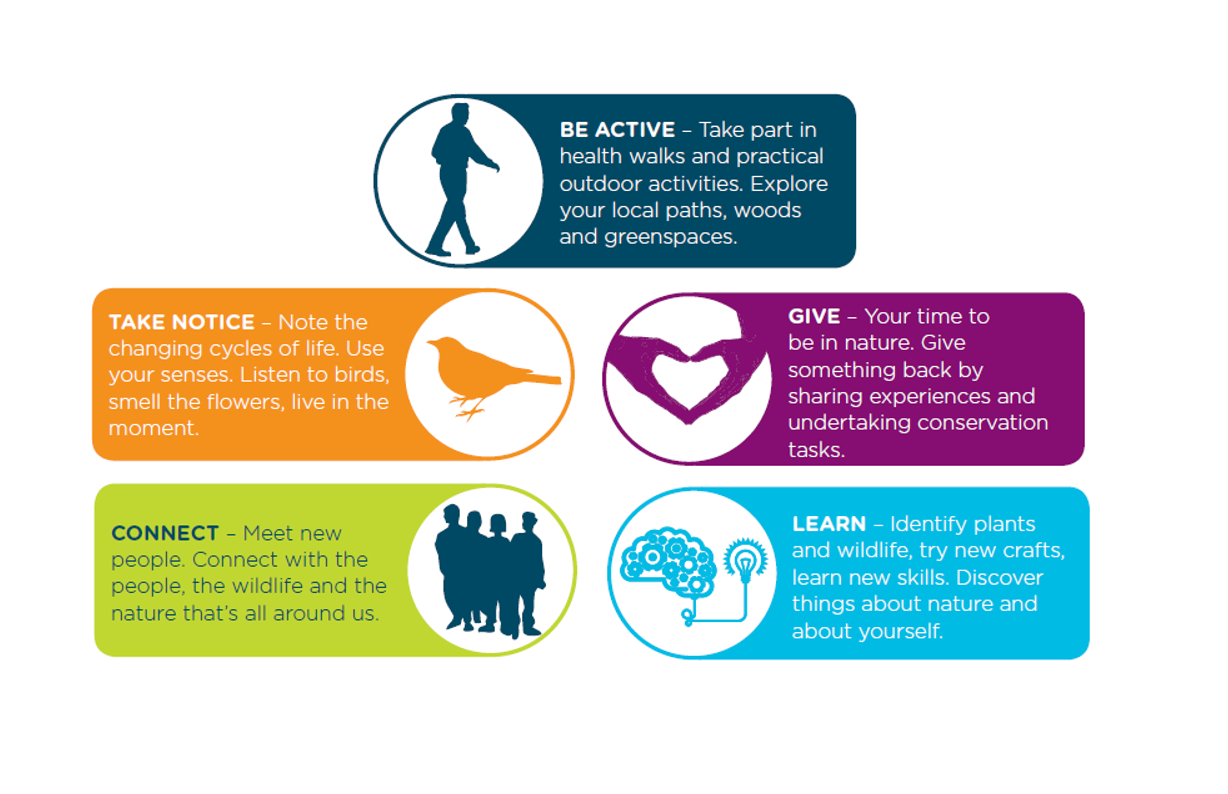 ---
Guest Blogger